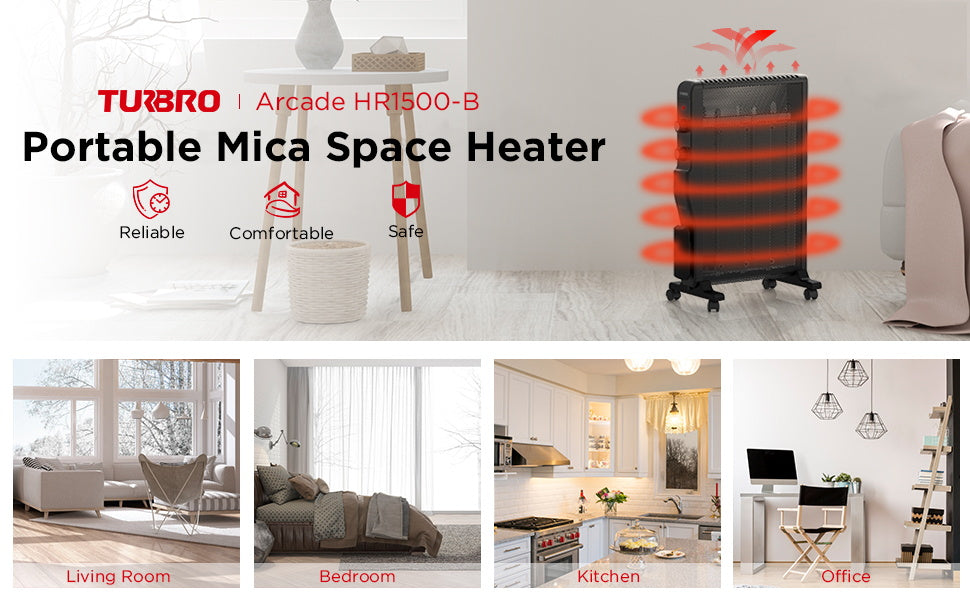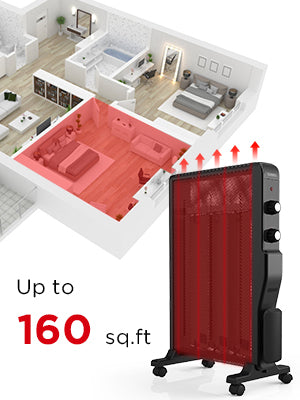 Why Choose TURBRO Mica Infrared Heaters?
Superior Heating Technology
The mica heating element emits far infrared rays (FIR), which are the peak of heat production. Unlike a fan heater blowing out hot air in one direction, infrared rays gently give off heat in all directions.
Better for Your Immune System
Far-infrared rays are naturally absorbed by your skin. This radiant heating can help improve blood circulation, speed up body metabolism, and relieve muscle soreness.
Arcade HR1500 Electric Mica Heaterdelivers concentrated supplemental heat for rooms up to 160 sq.ft through superior micathermic heating technology. It's small and portable enough to go anywhere: your bedroom, your living room, even your office. Stylish, lightweight, and easy to control, the TURBRO Arcade is your best choice this winter.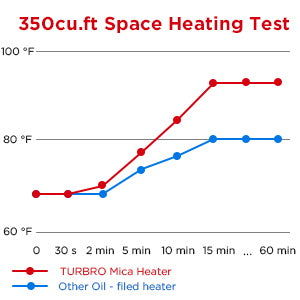 30 Second Heat
Switch on the heater and feel the warmth within seconds. The Arcade delivers heat via infrared rays so you don't have to deal with noisy fan sounds or losing all the moisture in the air.
Just imagine laying on the couch while the Arcade spreads cozy and relaxing warmth throughout the room.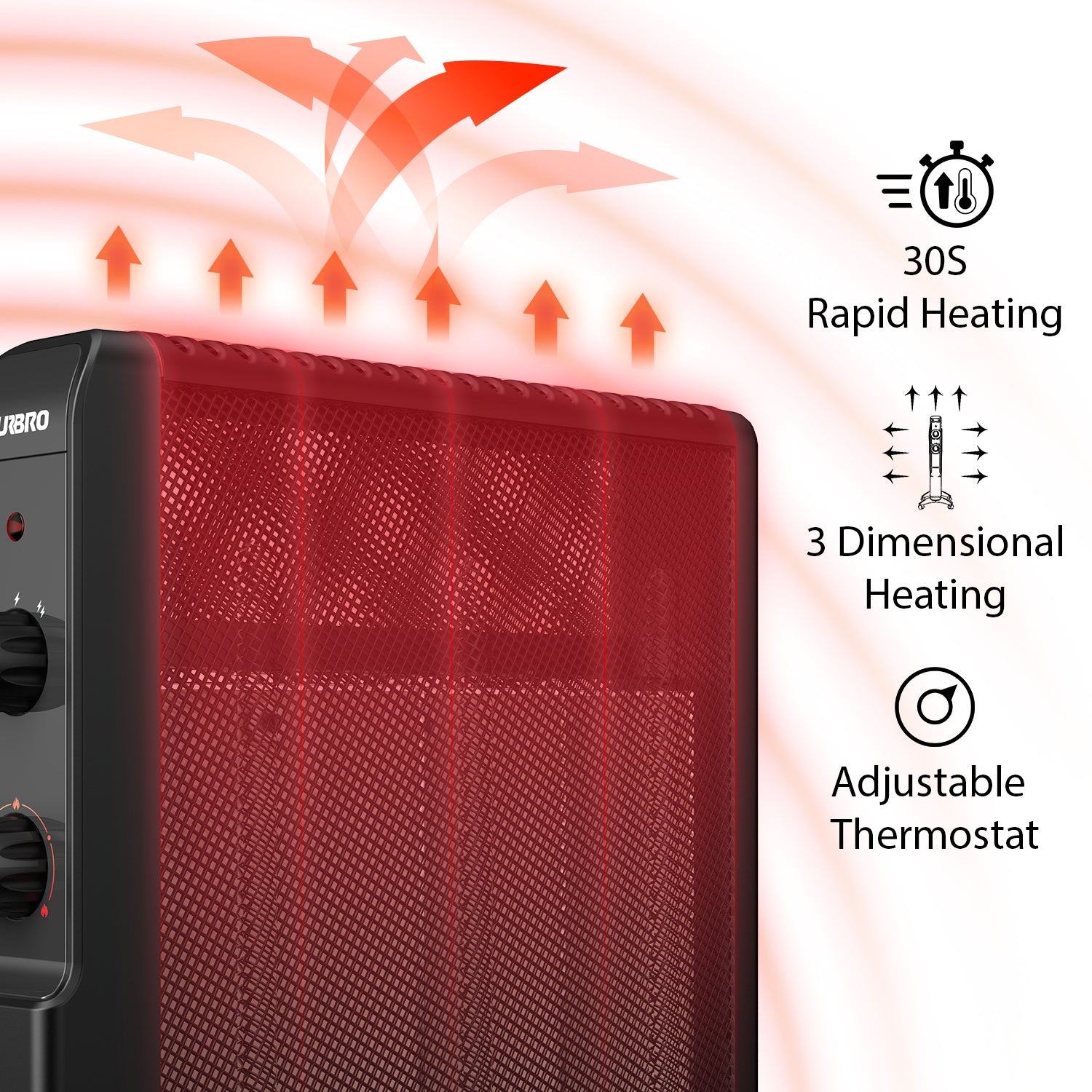 3 Dimensional Heating
Unlike other heaters that blow hot air in one direction, the Arcade delivers heat in all directions at the same time to evenly heat your room.
Now there's no need to frequently move the heater because somebody "can't feel the heat." Everyone can sit around the Arcade heater to enjoy the smooth warmth of multidirectional heating.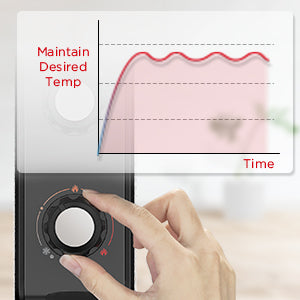 Personalize Your Warmth
Adjust your heat production with the power level selector (1000W / 1500W) and adjustable thermostat . Once the temperature is set, the heater will cycle on and off to maintain that temperature.
Don't want to be bothered by the heater turning on and off over and over again? Rotate the thermostat knob to the max setting and it will heat the room nonstop, regardless of the room.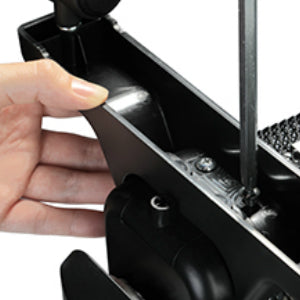 Quick Assembly
It only takes a few minutes to assemble the base to the heater body using the 4 screws included with the user manual. All you need for assembly is a screwdriver (not included).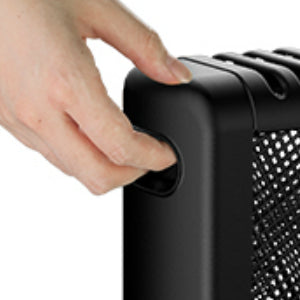 Insulated Handle
The handle on the top stays cool to touch while the heater is running. You can move the heater to a new location without burning your hand.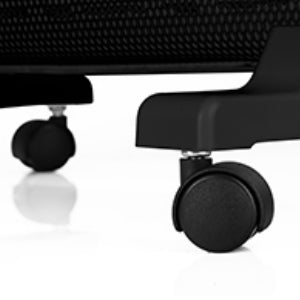 Universal Wheels
The all-directional wheels use durable carbon steel shafts to ensure that wheel movement is smooth as you roll the heater from room to room.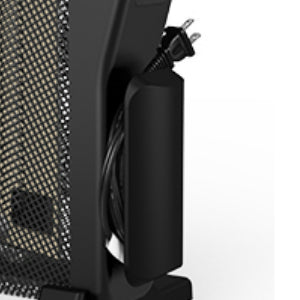 Cord Wrap
The cord wrap hooks located on the bottom-rear provide an organized spot for the power cord when not in use.
About TURBRO 'Arcade' Series
Arcade HR1500 Electric Mica Heater
is an ideal supplemental panel heater that you are finding. It delivers concentrate heat for a room up to 160 sq.ft through the superior micathermic technology without consuming water or oxygen from the air. It's small and portable enough to go anywhere: your bedroom, your living room, even your office. Stylish looking, lightweight, high heating capacity, and easy control, it's absolutely your best choice for this winter.
Kindly Reminder:
Check Your Package: If you find the package is destroyed or lose the accessories, please feel free to email TURBRO support team.
Safe Use: We do not recommend that you use a power strip with this (or any other) space heater or similar device. However, if you find the cord is too short, you can use an extension cord ONLY IF it is rated for 15 amp and a load of 1800 watts. You should check the power cord during the first 30 mins of operations to make sure it is not too hot. If hot to touch, unplug and discontinue use of a power cord.
Smell & Gas Issue:There might be some smell/gas at the very 1st-time use, simply due to the mica stone's material characteristics. Our customers can be assured that the smell is not from plastic but the water vapor and air impurities, nor toxic, and will disappear in a few minutes.
Specifications:
Model: Arcade HR1500-B
Power Indicator: LED
Noise Level: ≤23dBA
Power Supply: 120V / 60Hz
Power Cord Length: 78 inches
Rated Power: 1500W / 5100BTU
Heating Area: 160sq.ft (15㎡) max
Adjustable Thermostat: Available
Heating Element: Silicon Crystal + Mica Composite
Heating Theory: Radiation (Far Infrared Rays) + Convection
Approval: Certified with ETL (No.4005150, By ETL, Sep-2019) & CA PROP 65 (No.170928025GZU-001S1, By Intertek, Sep-2019)
Warranty: 1 Year
Package Includes:
1 x Mica Heater
8 x Screws (Packaged with the User Manual)
1 x User Manual
Has a buzzing noise, but it's a good heater
The noise is not that bad and it's manageable if you don't have the unit perpendicular to your position. I gave it 4 stars because the screw holes of the plastic wheel base do not fit the holes on the heater. I hope manufacturer reads this for their information.
Best Space Heater I Have Ever Owned
I will preface this by stating I live in SoCal, but I am ALWAYS cold in the house in the winter. Also, my house is heated with natural gas which makes my gas bill increase 10 fold in the winter months. The price of gas has now doubled, leading to a painfully large bill.
I bought a space heater to rectify this issue. I bought THIS space heater because it is silent. I had never heard of a mica space heater and now I swear by them.
I warm the whole house (1300sf) for a about a half hour in the morning with the central heating, then the rest of the day use the mica heaters by the TV in the living area and in the bedroom with the door mostly shut. They work like a treat!
We found if you want to amplify the heat return a bit, you can put a sheet of 36x36 thin copper (to radiate the heat back) behind the heater. It works very well:) It will be very warm to the touch, but NOT enough to cause you to get burned.
Thank you for making a quiet, easy to operate heater that works!
Good heater!
This is pretty good heater! There are two heat settings you can switch between if it's not warm enough or if it's too warm. It heats up the room pretty quickly and doesn't make that much noise. It's also pretty light so you can move it around easily. I also like the sleek design of this heater.
Arcade HR1500-B Electric Mica Space Heater