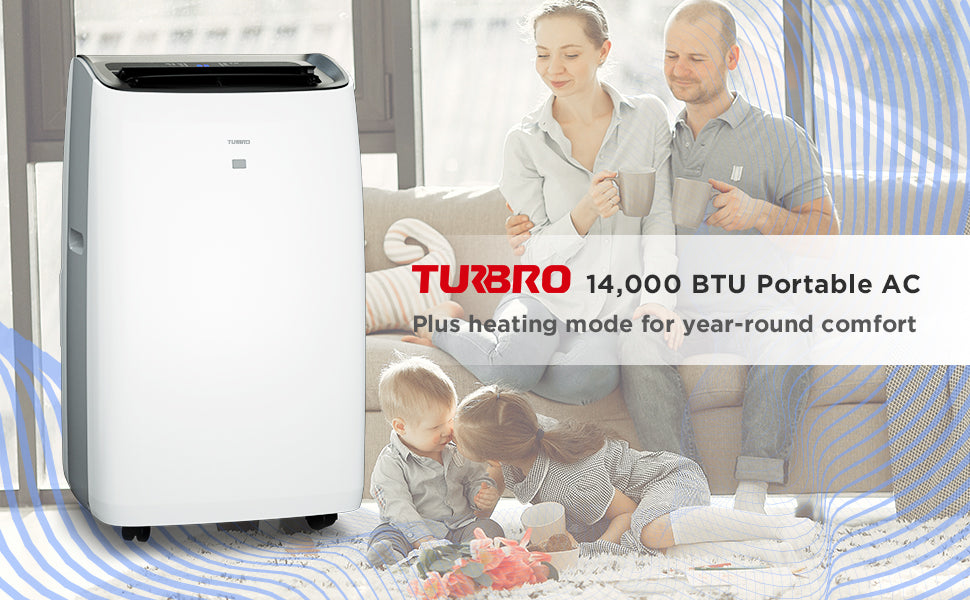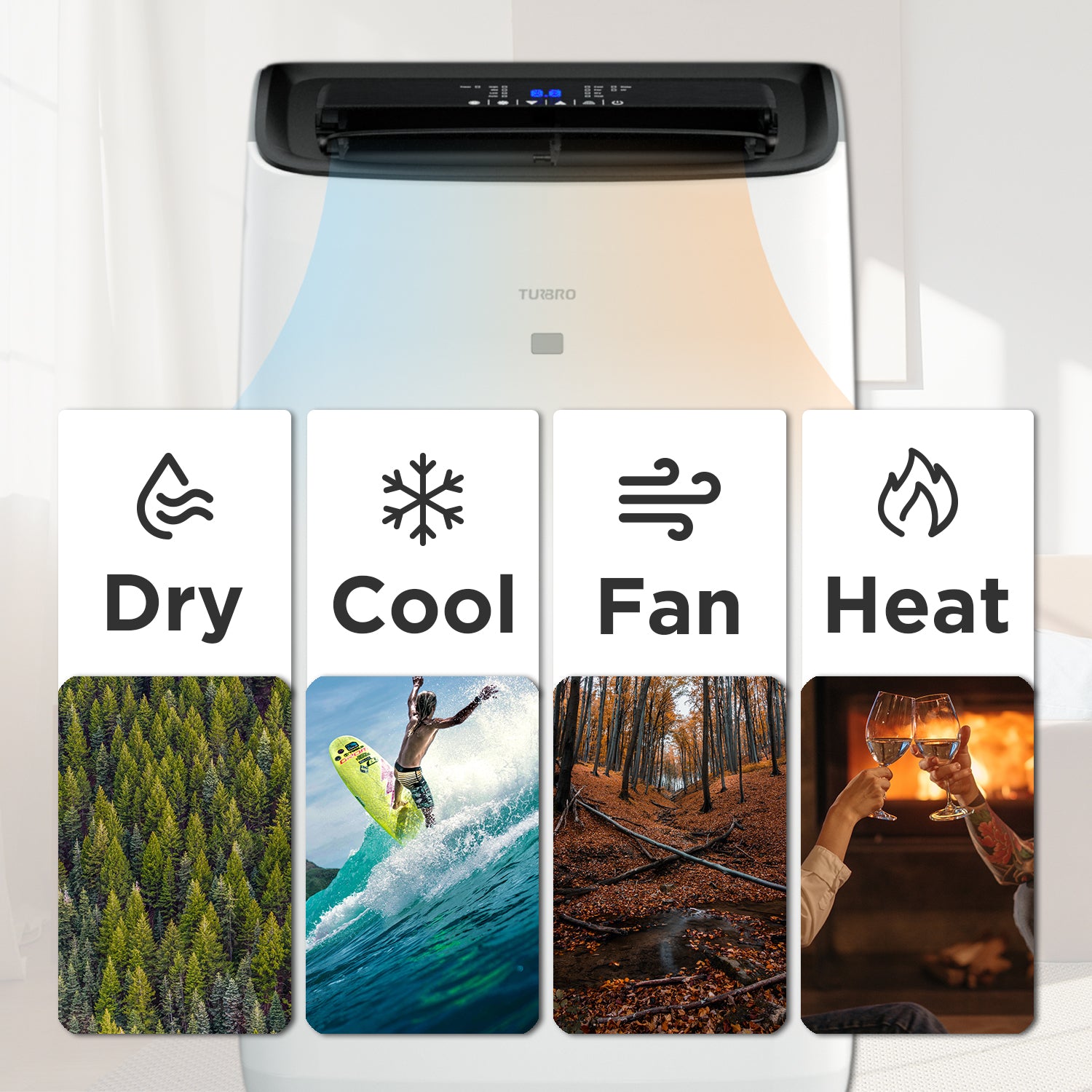 Year-Round Comfort
Save space and money while enjoying a comfortable room in all seasons by using this 4-in-1 unit. Create cooling in summer and cozy warmth in winter while controlling humidity and blowing fresh air in spring and autumn.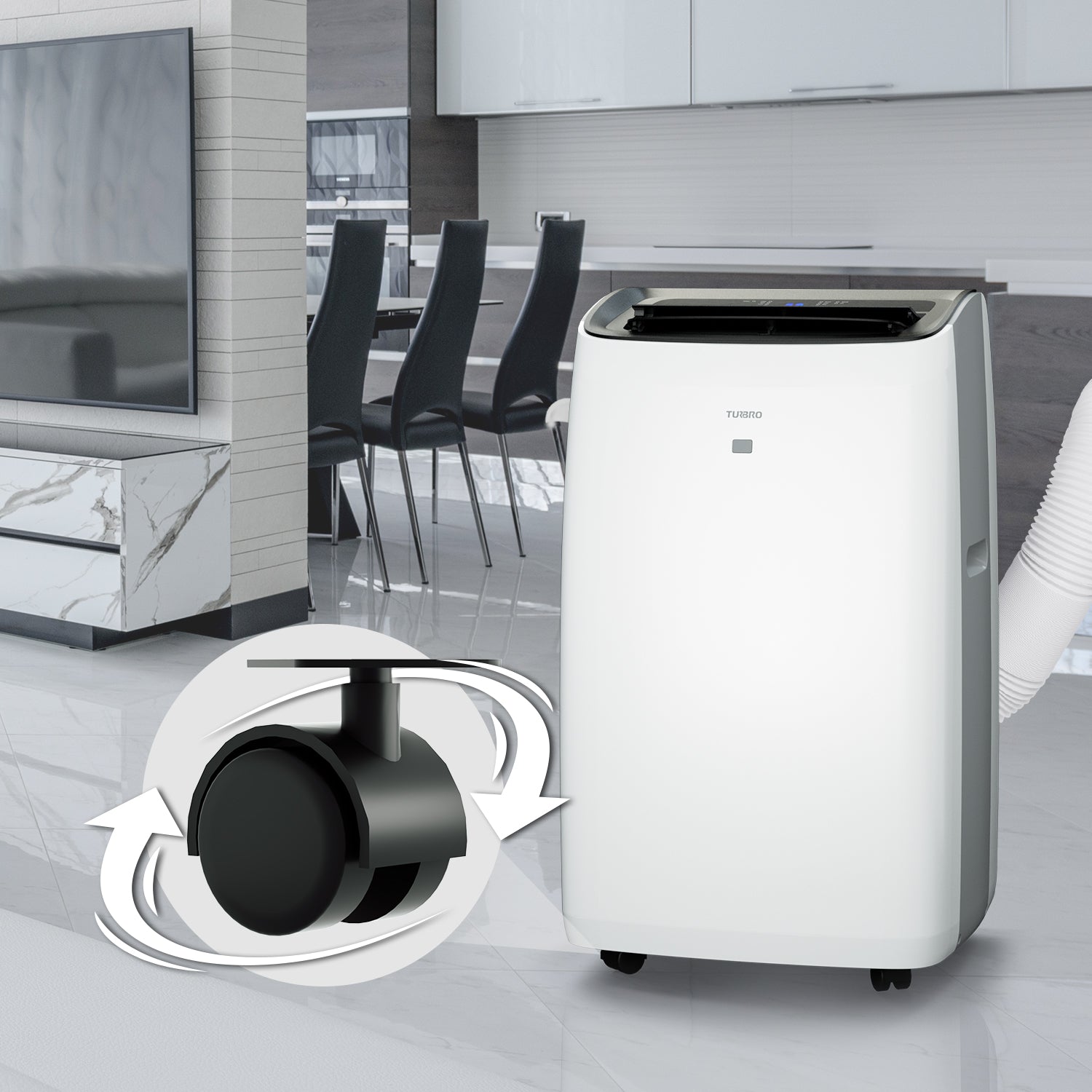 Easy to Move
The four caster wheels increase the mobility of this air conditioner so you can easily move it from room to room wherever you need to stay comfortable Although it has two handles, you shouldn't need to lift this heavy unit very often.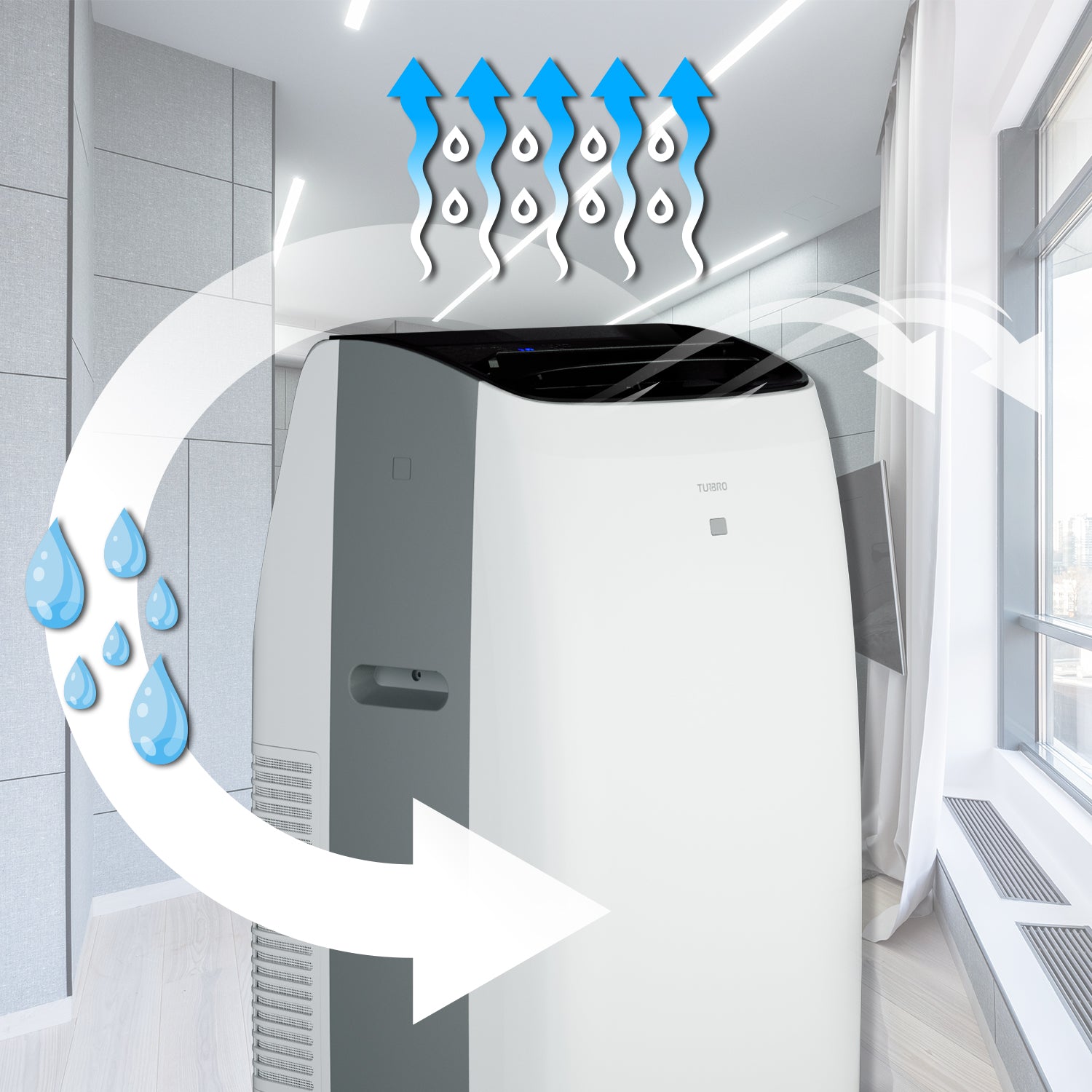 Convenient Water Drainage
A built-in self-evaporation system uses the collected condensed water to improve the cooling performance instead of draining it away. A 40-inch drain hose is included for continuous drainage when used as a dehumidifier or in areas with high humidity.
Upgraded Remote
The upgraded remote control with a larger backlit LCD screen makes it easy and clear to operate. You can set the comfort setting as you like even in the middle of the night.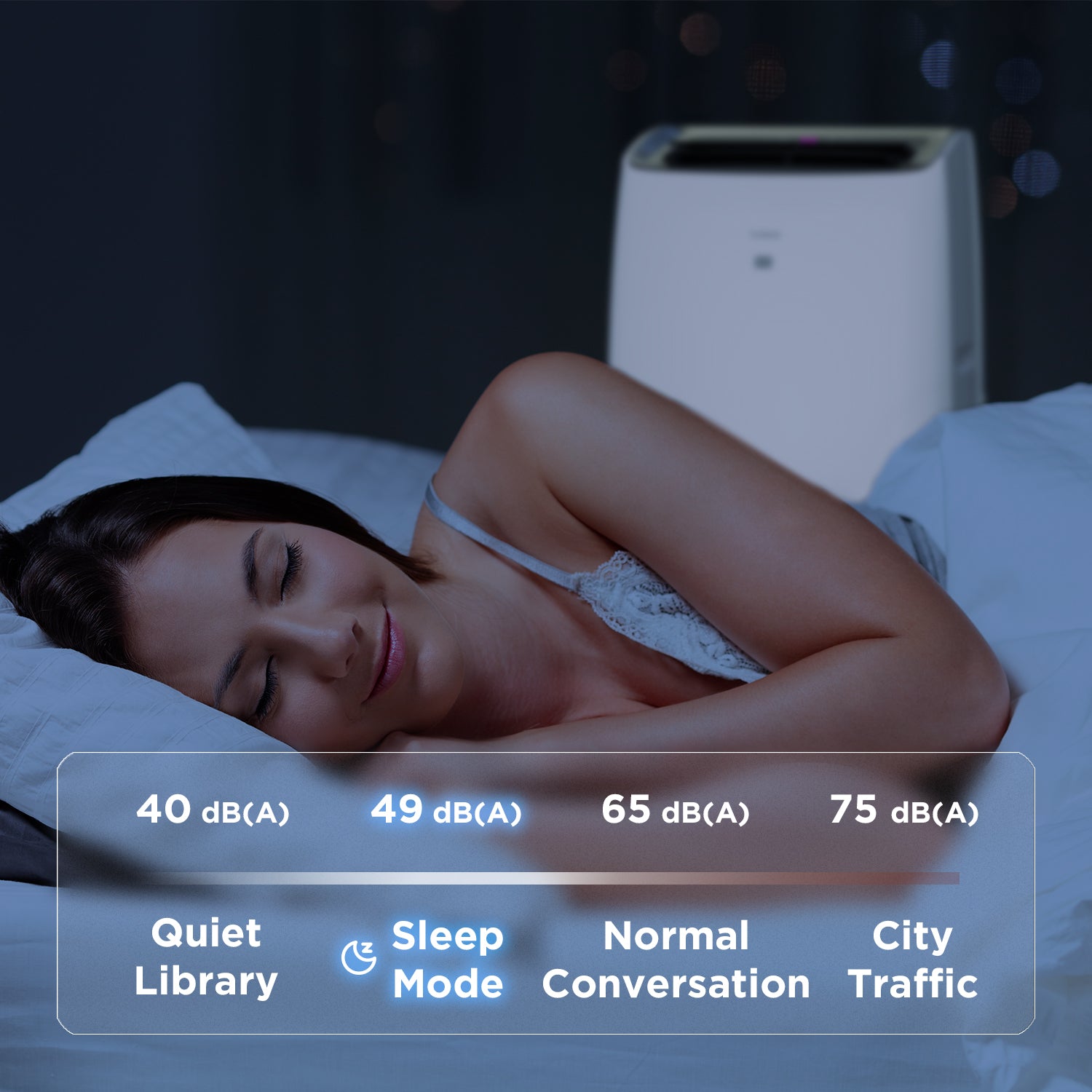 Quiet Operation
The max sound level produced is around 54 dB. For quieter and economical nighttime cooling, using the sleep mode. Sleep mode lowers the fan speed and raises the temperature slightly during the night. (Increase 1℉/hour for the first 2 hours then maintains that temperature for the next 6 hours.)
Turbo Function
Drop down the room temperature quickly after you get home by activating the Select the turbo function to use the maximum 64℉ cooling and highest fan speed.
The TURBRO Greenland GLP10AC-HU Portable Air Conditioner is a 4-in-1 portable air conditioner with additional heating, dehumidifying and fan-only functions. Rated at 14, 000 BTU (10,000 BTU SACC), this unit efficiently cools areas up to 600 square feet and heats areas up to 600 square feet. Keep indoor air clean and safe by using the UV-C light function to remove harmful pollutants and airborne particles. Lower your energy bill by using the auto mode, timer function and sleep mode to make your AC run more efficiently. The TURBRO Greenland portable air conditioner is  the perfect all-seasons solution for dorms, apartments, cabins, garage, offices, bedrooms, or small living rooms, or anywhere you need to stay comfortable.
Specification:
Power Supply:

115V / 60Hz

Rated Input: 1380W

Cooling Current: 12A

Heating Current: 9.6A

Power Cord Length: 60 inches / 5 feet

Temperature Range:

64-90°F

Cooling

, 55-81°F Heating 

Application area (cooling/heating): 450-600 sq. ft

Safety Approval: UL Certification

Dimension:

17.7 x 15.6 x 29.3 inches

Noise Level: ≤54db
Package Content:
1x Remote Control (Includes batteries)

1x Window Panel Kit (10-59 inches)

1x Exhaust Hose (5.9 inches in diameter, 63 inches in length)

1x Drainage Hose

2x Foam Seal

1x User Manual
| | | | | |
| --- | --- | --- | --- | --- |
|   | | | | |
|   | | | | |
| Recommended Room Size (Up To) | 300 sq. ft. | 400 sq. ft. | 600 sq. ft. | 600 sq. ft. |
| Cooling Capacity (ASHRAE) | 8,000 BTU | 10,000 BTU | 14,000 BTU | 14,000 BTU |
| Cooling Capacity (New DOE) | 5,000 BTU | 6,000 BTU | 10,000 BTU | 10,000 BTU |
| Heating Function | X | X | X | ✓ |
| Dehumidification | 55 pints/day | 64 pints/day | 81 pints/day | 81 pints/day |
| Fan Speed | Low and High | Low and High | Low and High | Low and High |
| Noise Level | 49-52 dB | 49-52 dB | 49-54 dB | 49-54 dB |
| Extra Features | -  | - | - | UV-C Light |
| Timer | ✓ | ✓ | ✓ | ✓ |
| Sleep Mode | ✓ | ✓ | ✓ | ✓ |
| Turbo Function | ✓ | ✓ | ✓ | ✓ |
Top notch customer service
The customer service received by Turbro was about the best I've had in well over a decade. It's easy to find the same product at many different suppliers. But if a problem comes up with that product after it's bought and paid for, no one will give you the time of day. They have plenty of time to try to sell you a product and will tell you whatever you want to hear. But if there's an issue after the product is in your home, most people act like there's nothing they can do...even before they tried!!! I bought an AC from Turbro and after a lot of use in a short time it got a little noisy. After some troubleshooting I was offered a new replacement AC, no questions asked, no hassles about returning the problem AC unit. I shared emails regularly with customer service about how to proceed and I heard from them promptly. Now that's customer service the way it should be done. Special thanks to Wilson for going above and beyond.
Turbo 14000 btu
It's everything I needed for climate control in my basement. Works really well.
Totally satisfying.
I'm totally enjoying the new turbo portable air conditioning unit. This is my second one I use it out in a spare room and hit maintains the temperature beautifully. I live down here in Alabama and it's working out just great. Can't wait to test the heating part of it. I close insane. Totally satisfied.
DID NOT FUNCTION PROPERLY
Would not cool small room, would not blow cold air. Had to send back for refund.
it works
it works great cools down the room good
YOU MAY ALSO LIKE