TURBRO Greenland GLP05AC Portable Air Conditioner is a 3-in-1 portable air conditioner with additional  dehumidifying and fan functions. Rated at 8, 000 BTU (5,000 BTU SACC), this unit efficiently cools areas up to 300 square feet. 
The TURBRO Greenland portable AC unit is built with a self-evaporative system so there is no bucket to empty when using the air conditioning mode. If using the dehumidifying mode or using it in areas with high humidity, a drain hose is included to set up continuous gravity drainage. Lower your energy bill by using the timer function and sleep mode. A full-function remote can change all settings and is also used as a temperature sensor for precise temperature control based on where you are in the room. The TURBRO Greenland portable air conditioner is an ideal summer cooling appliance for dorms, apartments, cabins, garage, offices, bedrooms, or small living rooms. 
Specification:
Power Supply:

115V / 60Hz

Rated Input: 978W

Rated Current: 8.5A

Power Cord Length: 67 inches / 5.6 feet

Temperature Range:

64-90°F

Safety Approval: UL Certification

Dimension:

12.6 x 12.6 x 26.4 inches

Noise Level: 52db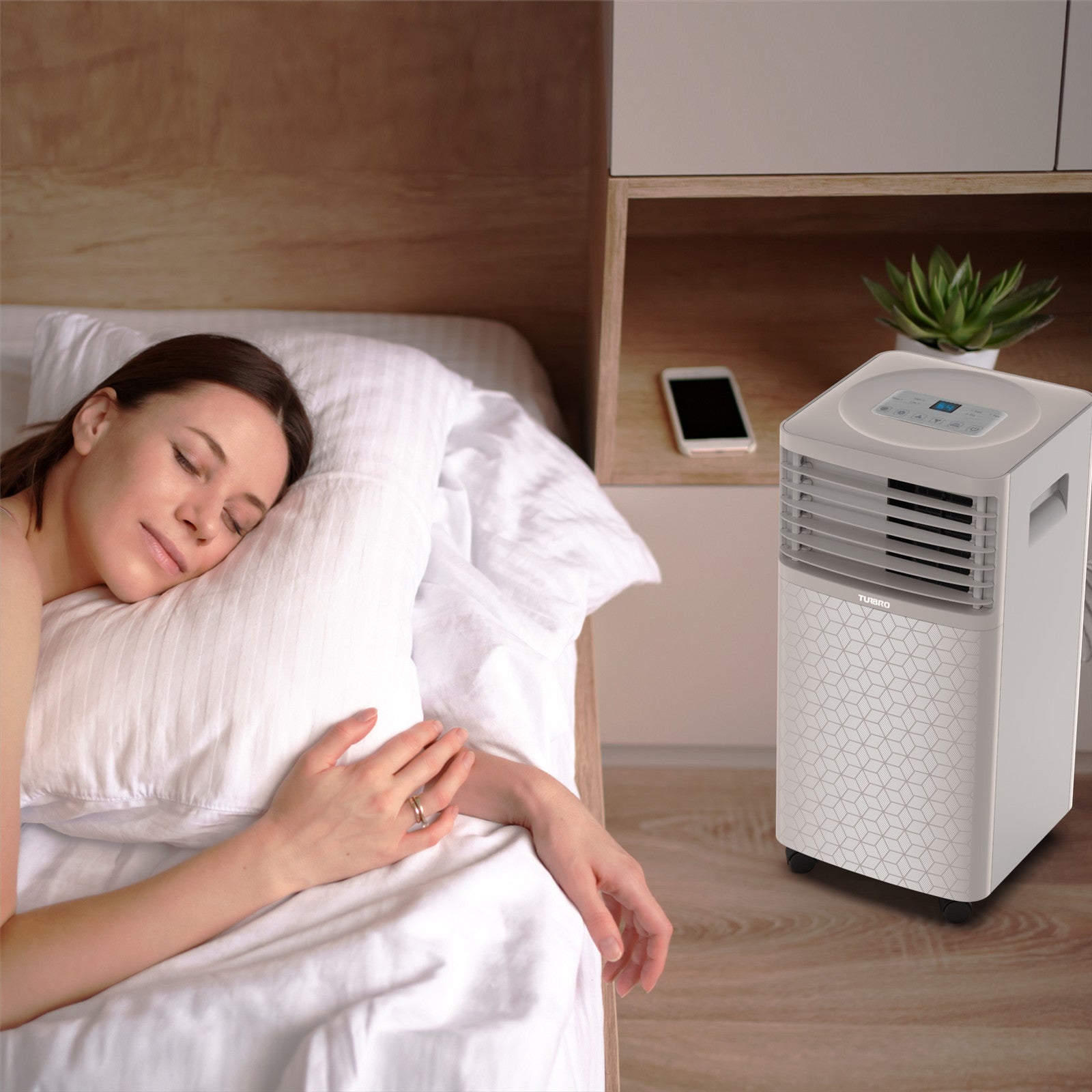 Sleep Mode
For quieter and economical nighttime cooling, the AC lowers the fan speed and raises the temperature slightly during the night. (Increase 1℉/hour for the first 2 hours then maintain that temperature for the next 6 hours.)
Temp-Sensing Remote
The remote detects the surrounding temperature when you keep it by your side so the AC can achieve a more accurate temperature control and provide a better cooling experience for you.
Dual Drainage Methods
A built-in self-evaporation system allows this AC unit bucketless operation. A 40 inches drain hose is included for continuous drain when used as a dehumidifier or in areas with high humidity.
Reusable Filter
The washable filter is designed to prevent dust and pet hair from entering the unit. To keep the appliance working efficiently, we recommend cleaning the filter every 3 months
Timer Function
Set a timer to turn on or off the unit automatically on your schedule to keep the air conditioner working efficiently and lower your energy bill.
Auto Restart Function
This AC unit will turn back on automatically when a power outage is recovered so you can keep cool even if a power outage occurs at night.
Easy Movement
The four caster wheels increase the mobility of this air conditioner so you can easily move it from room to room for targeted spot cooling. Although it has two handles, you won't need to lift this heavy unit on most occasions.
Quiet Operation
The max sound level produced is around 52 dB, which is close to the sound level of an average conversation between two people in a quiet room. Consider it' a powerful cooling device with a built-in white noise functionality.
| | | | | |
| --- | --- | --- | --- | --- |
|   | | | | |
|   | | | | |
| Recommended Room Size (Up To) | 300 sq. ft. | 400 sq. ft. | 600 sq. ft. | 600 sq. ft. |
| Cooling Capacity (ASHRAE) | 8,000 BTU | 10,000 BTU | 14,000 BTU | 14,000 BTU |
| Cooling Capacity (New DOE) | 5,000 BTU | 6,000 BTU | 10,000 BTU | 10,000 BTU |
| Heating Function | X | X | X | ✓ |
| Dehumidification | 55 pints/day | 64 pints/day | 81 pints/day | 81 pints/day |
| Fan Speed | Low and High | Low and High | Low and High | Low and High |
| Noise Level | 49-52 dB | 49-52 dB | 49-54 dB | 49-54 dB |
| Extra Features | -  | - | - | UV-C Light |
| Timer | ✓ | ✓ | ✓ | ✓ |
| Sleep Mode | ✓ | ✓ | ✓ | ✓ |
| Turbo Function | ✓ | ✓ | ✓ | ✓ |
Faulty product
The only way I can get the unit to work properly is if I have the drain hose hooked up to the back and let it drain in a bucket..in my bedroom. If I don't do that, it gives me the "Full Tank" alert even when it's completely empty. I even got a replacement for it and 2 days after I got it, it did the same thing. I shouldn't have to have a bucket of water next to my bed that has to be emptied every 3-4 hours just for the air conditioner to work.
Great
Cool my room it was not easy to use as ac. I thought it was more portable
Very difficult to connect exhaust hose directions not cley
Product is excellent for the space we needed it for
Very pleased with usage
As advertised.
Perfect for a small space (like Apt. BR in New Orleans. .) Using only the DH feature (in high humidity town), our apt. a/c runs only half as much as it did in June.
No AC
Just set up and it only blows room temp air. Basically a really expensive fan! Need to contact customer service bc the AC definitely does not work. This is my 2nd Turbro AC unit and I love my first one. Hopefully it will get resolved.
Thank you so much for your feedback! We have already emailed you, could you please check your inbox? You can also hit the Live Chat button on our website, contact support@turbro.com or we can jump on a call to discuss this.
YOU MAY ALSO LIKE