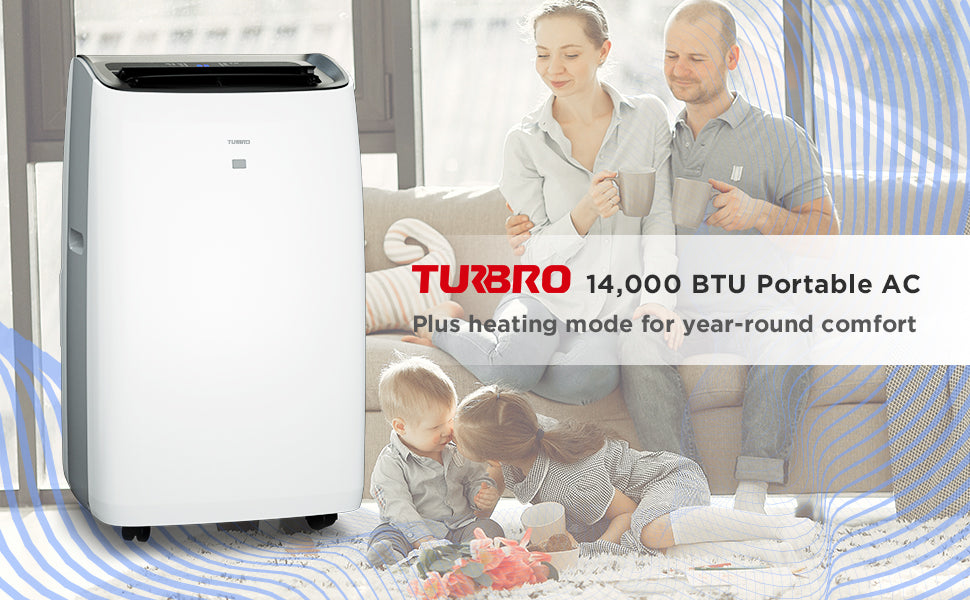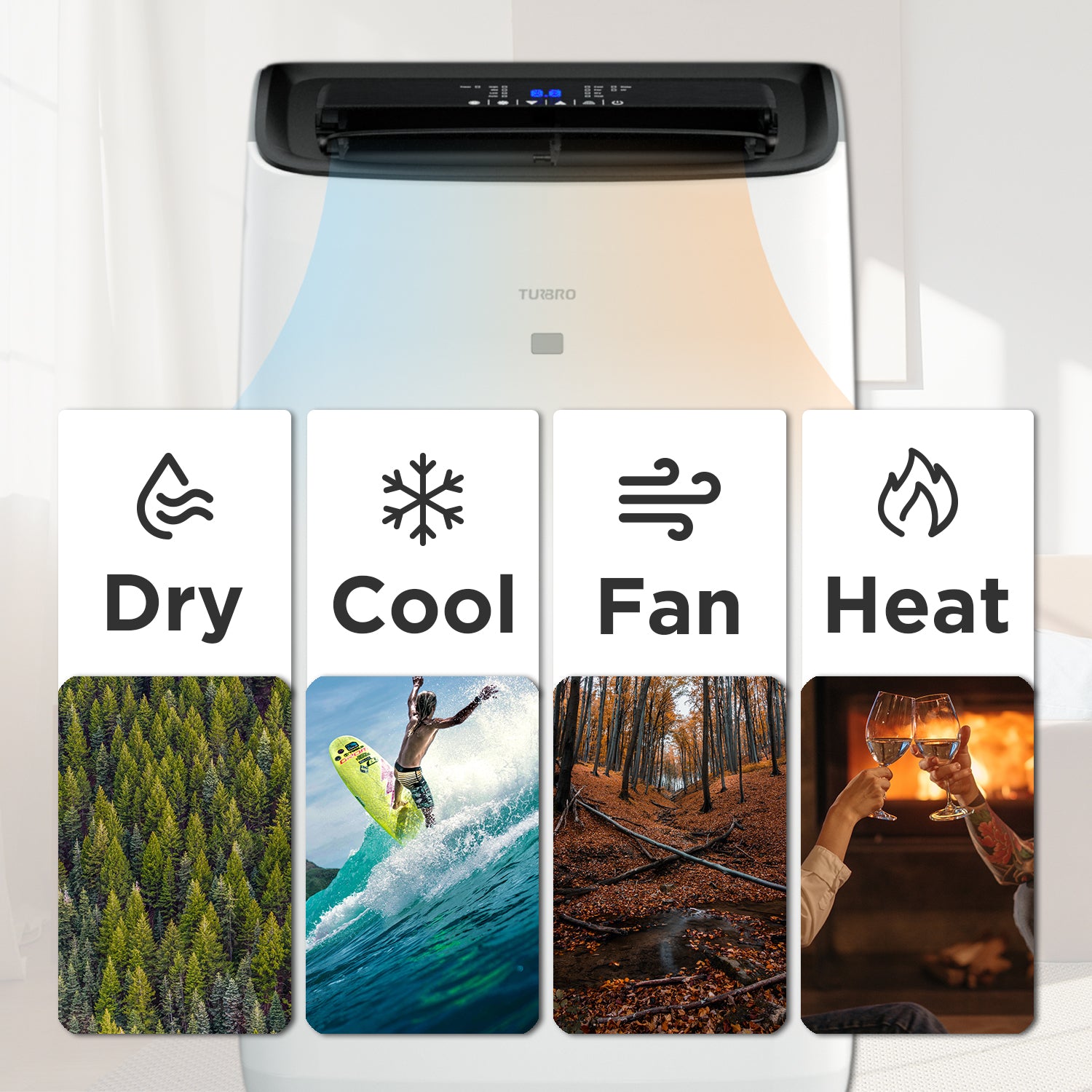 Year-Round Comfort
Save space and money while enjoying a comfortable room in all seasons by using this 4-in-1 unit. Create cooling in summer and cozy warmth in winter while controlling humidity and blowing fresh air in spring and autumn.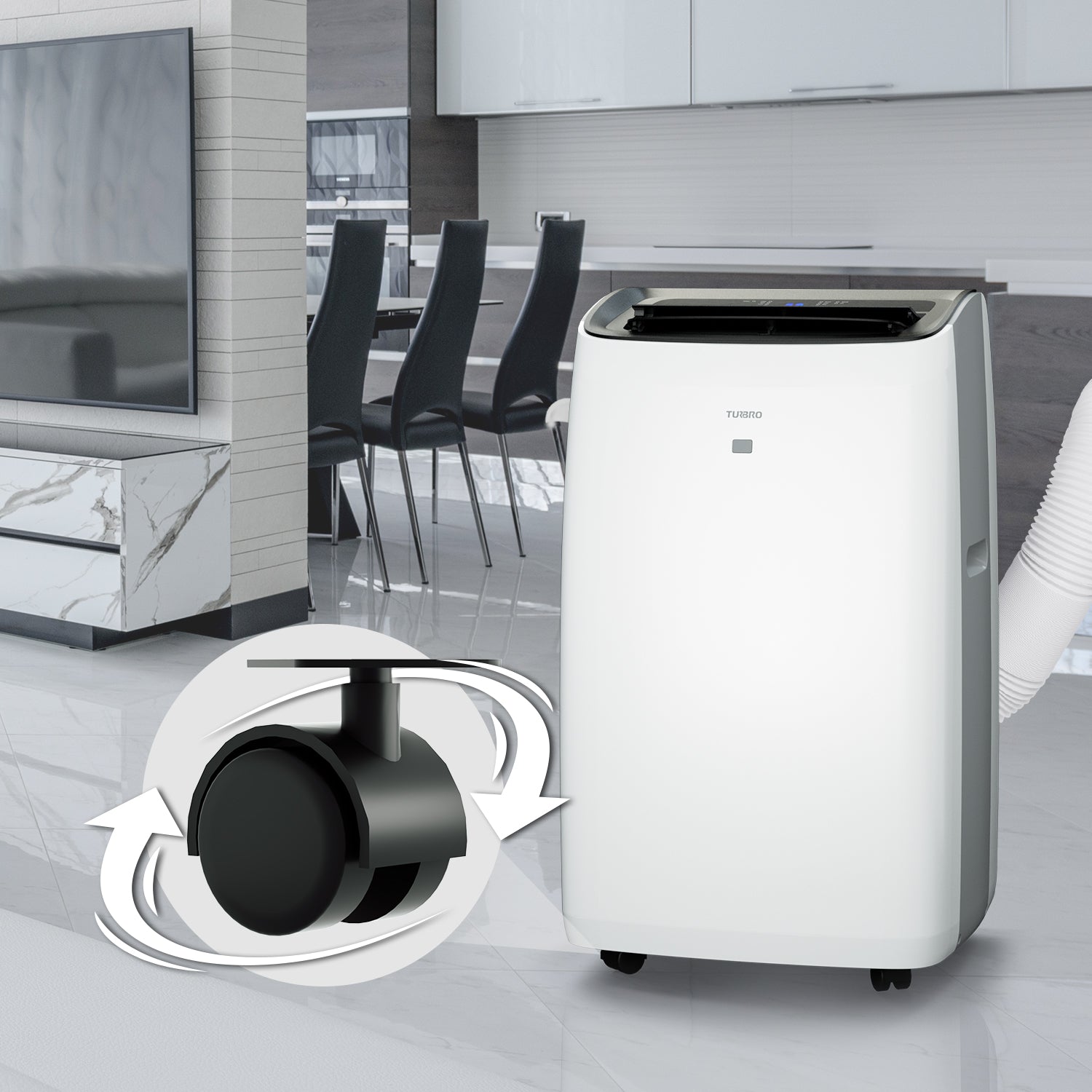 Easy to Move
The four caster wheels increase the mobility of this air conditioner so you can easily move it from room to room wherever you need to stay comfortable Although it has two handles, you shouldn't need to lift this heavy unit very often.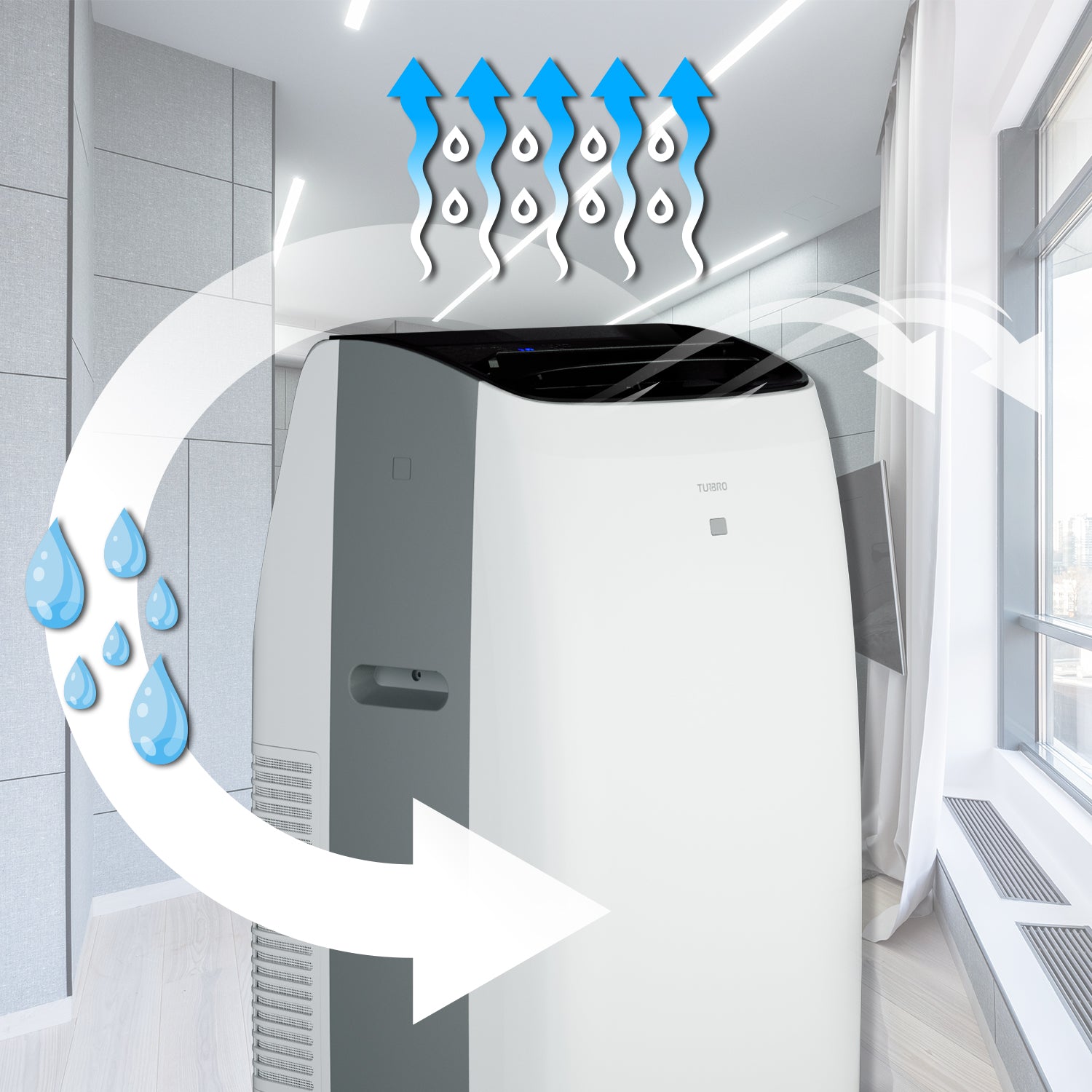 No Drain Bucket
A built-in self-evaporation system uses the collected condensed water to improve the cooling performance instead of having to drain it away. A 40-inch drain hose is included for continuous drainage when used as a dehumidifier.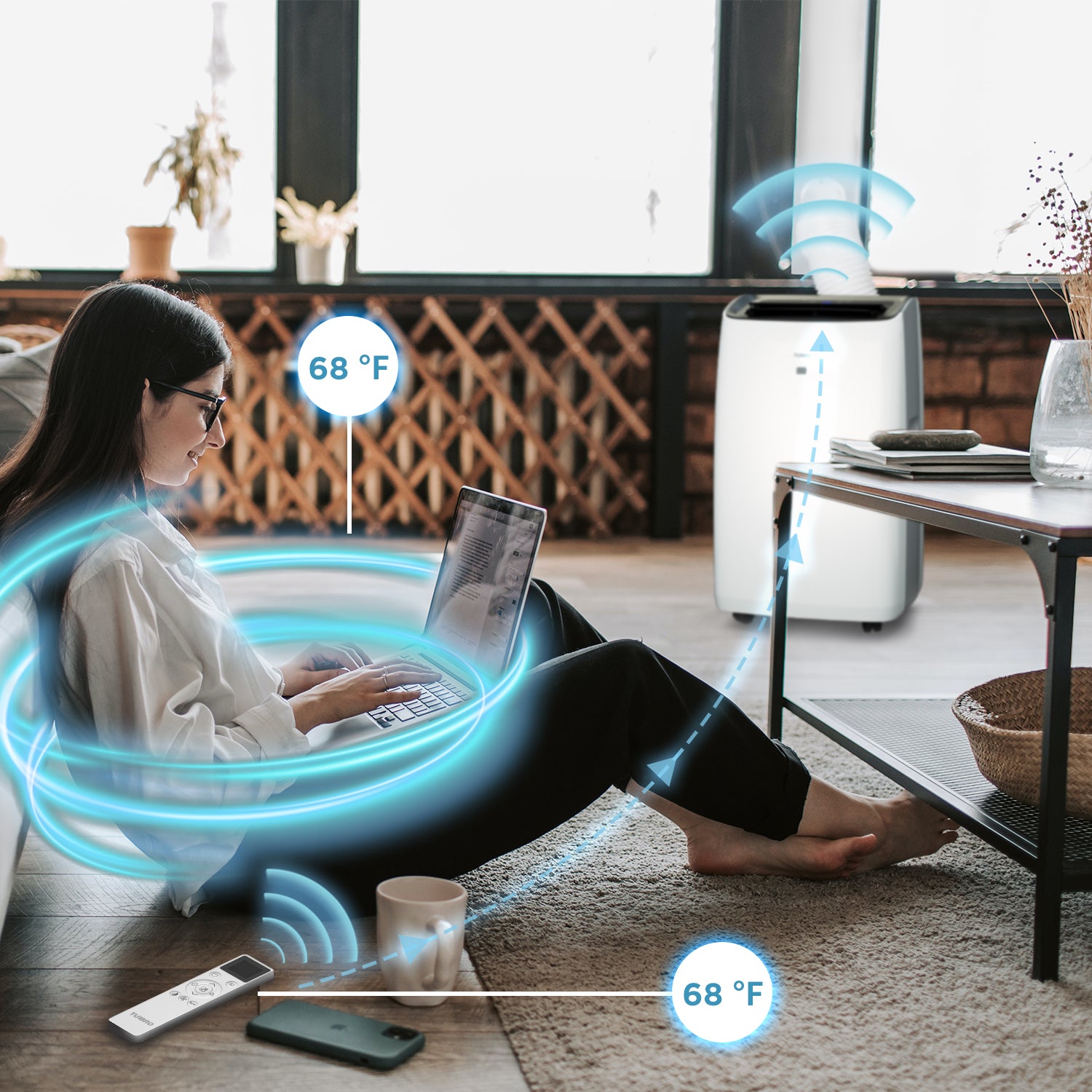 Temp-Sensing Remote
The remote detects the surrounding temperature when you keep it by your side so the AC can achieve a more accurate temperature control and provide a better cooling experience for you.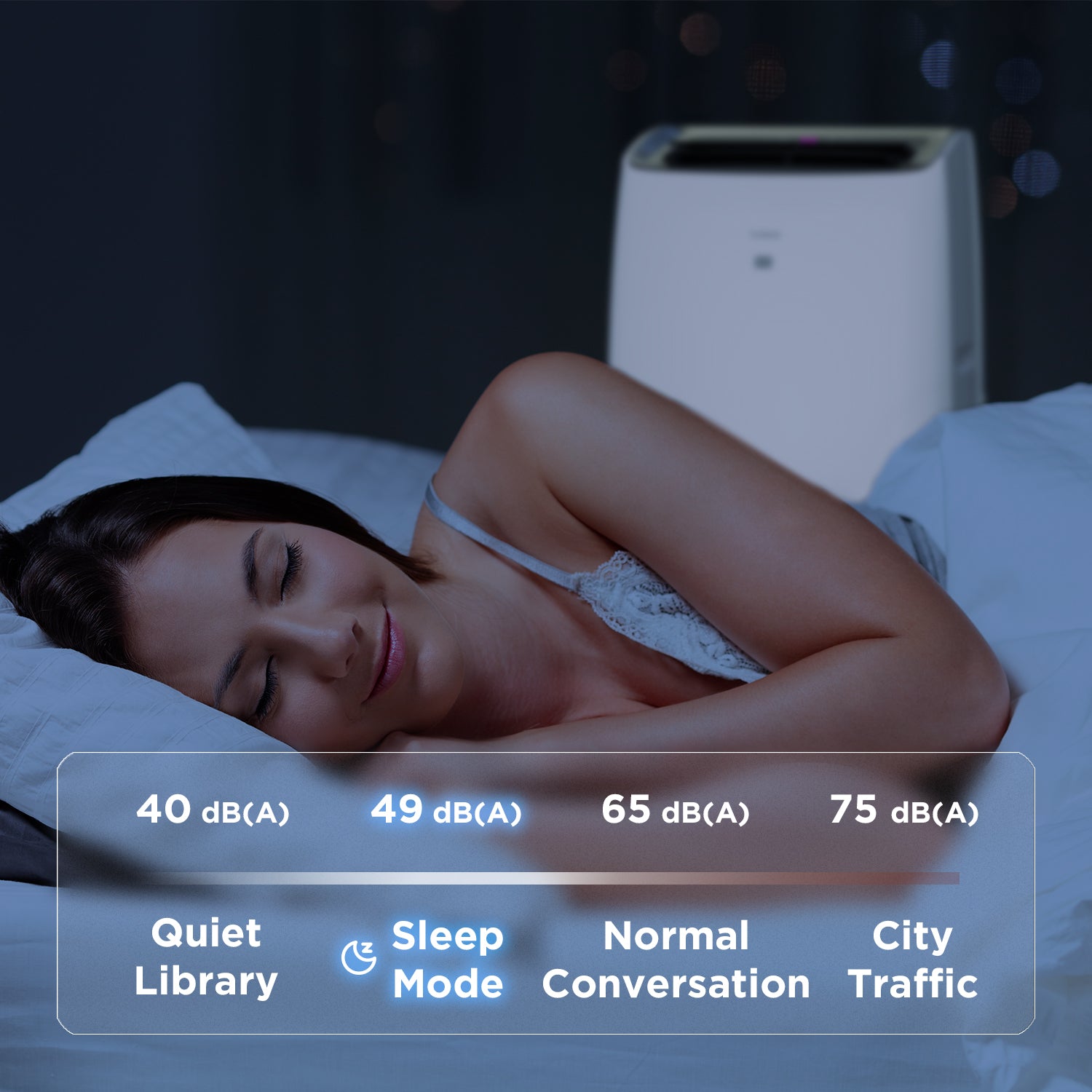 Quiet Operation
The max sound level produced is around 54 dB. For quieter and economical nighttime cooling, using the sleep mode. Sleep mode lowers the fan speed and raises the temperature slightly during the night. (Increase 1℉/hour for the first 2 hours then maintains that temperature for the next 6 hours.)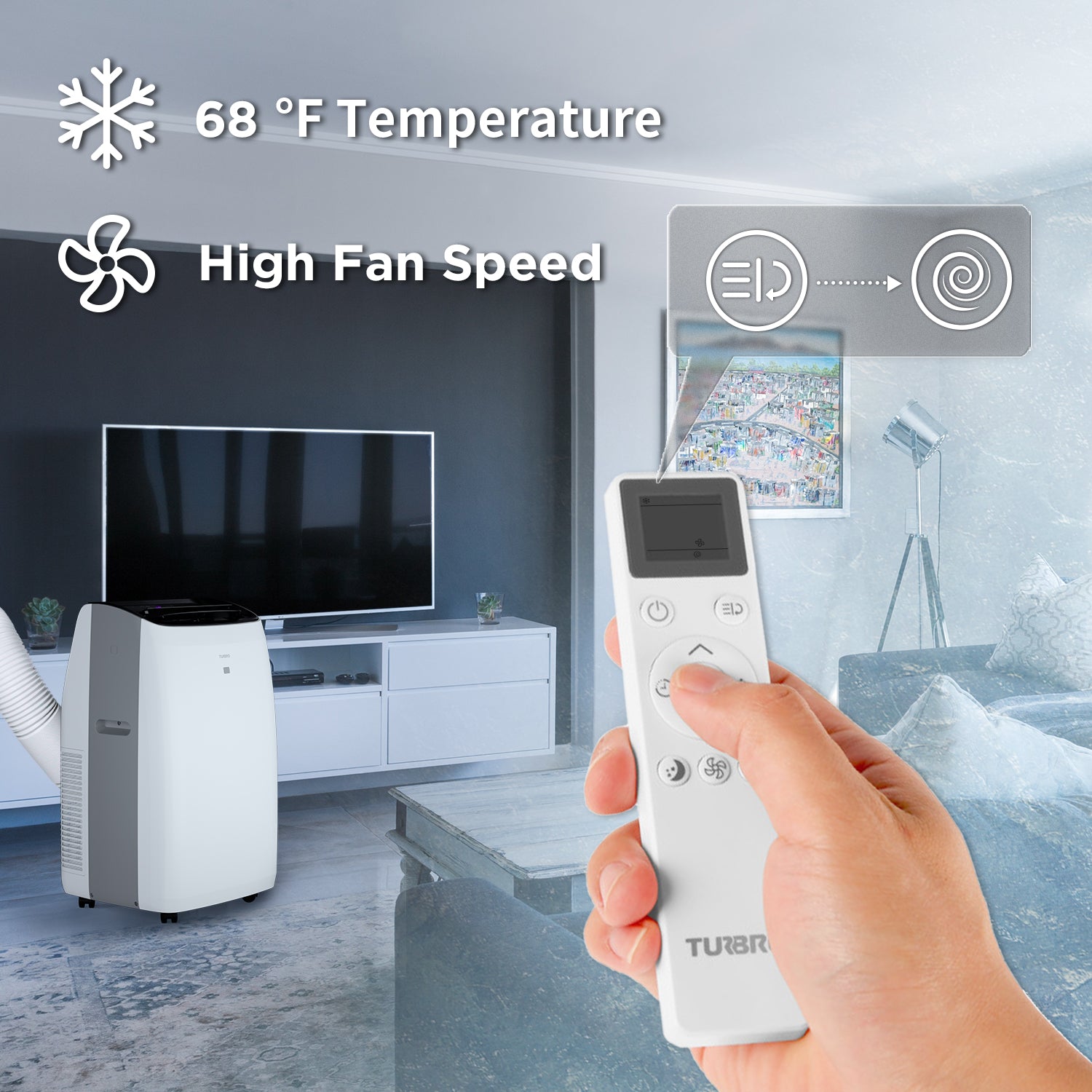 Turbo Function
Drop down the room temperature quickly after you get home by activating the Select the turbo function to use the maximum 64℉ cooling and highest fan speed.
The TURBRO Greenland GLP10AC-HU Portable Air Conditioner is a 4-in-1 portable air conditioner with additional heating, dehumidifying and fan-only functions. Rated at 14, 000 BTU (10,000 BTU SACC), this unit efficiently cools areas up to 600 square feet and heats areas up to 600 square feet. Keep indoor air clean and safe by using the UV-C light function to remove harmful pollutants and airborne particles. Lower your energy bill by using the auto mode, timer function and sleep mode to make your AC run more efficiently. The TURBRO Greenland portable air conditioner is  the perfect all-seasons solution for dorms, apartments, cabins, garage, offices, bedrooms, or small living rooms, or anywhere you need to stay comfortable.
Specification:
Power Supply:

115V / 60Hz

Rated Input: 1380W

Cooling Current: 12A

Heating Current: 9.6A

Power Cord Length: 60 inches / 5 feet

Temperature Range:

64-90°F

Cooling

, 55-81°F Heating 

Application area (cooling/heating): 450-600 sq. ft

Safety Approval: UL Certification

Dimension:

17.7 x 15.6 x 29.3 inches

Noise Level: ≤54db
Package Content:
1x Remote Control (Includes batteries)

1x Window Panel Kit (10-59 inches)

1x Exhaust Hose (5.9 inches in diameter, 63 inches in length)

1x Drainage Hose

2x Foam Seal

1x User Manual
GLP10AC-HU
GLP05AC
GLP06AC
https://www.turbro.com/products/pac10kus
https://www.turbro.com/products/pac5kus
https://www.turbro.com/products/pac6kus
Recommended Room Size (Up To)
Cooling Capacity
Heating Capacity
Dehumidification
Fan Speed
Noise Level
Extra Feature
Product Dimensions (LxWxH)
Product Weight
600 sq. ft.@@ 14,000 BTU (ASHRAE)/10,400 BTU (New DOE)@@ 13,300 BTU@@ 81 pints/day@@ Low, Medium and High@@ 49-54 dB@@ UV-C Light, Timer, Sleep Mode, Turbo Function, Temp Sensing Remote Control (Follow Me Mode)@@ 17.7 x 15.6 x 29.3 in.@@ 75.2 lbs
300 sq. ft.@@ 8,000 BTU (ASHRAE)/5,150 BTU (New DOE)@@ /@@ 55 pints/day@@ Low and High@@ 49-52 dB@@ Timer, Sleep Mode, Turbo Function, Temp Sensing Remote Control (Follow Me Mode)@@ 12.6 x 12.6 x 26.4 in.@@ 49.3 lbs
400 sq. ft.@@ 10,000 BTU (ASHRAE)/6,200 BTU (New DOE)@@ /@@ 64 pints/day@@ Low and High@@ 49-52 dB@@ Timer, Sleep Mode, Turbo Function, Temp Sensing Remote Control (Follow Me Mode)@@ 12.6 x 12.6 x 26.4 in.@@ 50.6 lbs